Muenster and Fresh Corn Nachos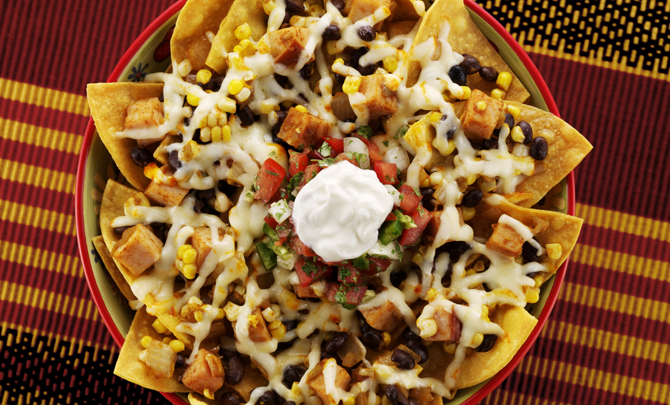 Recipe Description
Muenster is a wonderful melting cheese, and its mild flavor allows the seasoned corn, smoked turkey, and salsa to shine! This colorful, hearty appetizer is hard to resist!
Ingredients
PICO DE GALLO:
2 to 3 large tomatoes, seeded and chopped (2 cups)
1/2 cup minced fresh cilantro
1/4 cup chopped onion
Juice of 1 medium lime
2 tablespoons diced jalapeno pepper
Salt and pepper to taste
FRESH CORN NACHOS:
2 cups tortilla chips
1/2 cup chopped onion
1 tablespoon butter, cubed
1 1/2 cups fresh or frozen corn, thawed
1 can (4 ounces) chopped green chilies, drained
2 tablespoons water
1 teaspoon chili powder
1/2 teaspoon ground cumin
1 cup cubed smoked turkey breast
1 cup canned black beans, rinsed and drained
2 1/2 cups (10 oz) Burnett Dairy Muenster Cheese, shredded
Sour cream
Preparation
Pico De Gallo:
Combine the pico de gallo ingredients in a large bowl. Season with salt and pepper to taste.
Fresh Corn Nachos:
Line a 15 x 10-inch baking pan with parchment paper. Arrange tortilla chips in a single layer on the prepared pan.
Sauté the onion in butter in a large skillet over medium-high heat for 4-5 minutes or until crisp-tender. Reduce heat to medium. Stir in the corn, green chilies, water, chili powder, and cumin. Bring to a gentle boil, stirring occasionally. Reduce heat; simmer, covered, for 5-6 minutes or until corn is tender. Remove from the heat. Stir in turkey and black beans.
Spoon corn mixture over chips. Sprinkle with muenster. Broil 6 inches from the heat for 2-3 minutes or until cheese is melted.
Top nachos with pico de gallo and sour cream.
Recipe and photo © Dairy Farmers of Wisconsin
Recipe Tips:
Avoid touching face when handling jalapeno peppers. Consider wearing gloves, as oils may burn skin.

Your favorite prepared salsa or pico de gallo can be substituted.